Responsive, Upright and Reliable service
At Advanced Services we take great pride in our approach to providing the industry leading electrical and plumbing solutions to customers across Kuwait.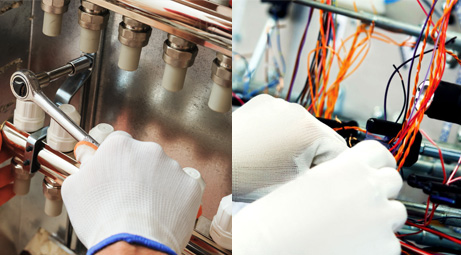 Electrical and plumbing is an inevitable element in any residential or commercial structure. The first major thing that comes into consideration after completing the skeletal structure of a building is the electrical and plumbing. Once you have decided to start the electrical and plumbing works, you must ensure the credibility and reliability of providers before you hand over the contract to them. Since a good service provider knows exactly the type and quality of the accessories to be used for a healthy electrical and plumbing solution.
Advanced service is a highly regarded provider in Kuwait that is specialized to offering all sort of electrical and plumbing works to all size and kind of buildings. Being a total solution provider, we join in to get the finest electrical and plumbing solution that improves the functionality of the building.

We have a pool of qualified electricians to help you through the customer requirements. With the best services you can be sure that everything that we provide will be 100% safe. All our work guarantees one thing, top-quality electrical services.

Our plumbing service is at your disposal always. With the professionally trained and licensed staffs, we are ready to handle any sort of plumbing works in any challenging environments. Whether you are in a need for new installation or restoration of existing plumbing job we lend our expertise for a better service.
Still Have Some Questions Left?
Call Us For A Toll Free At 1808040